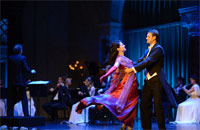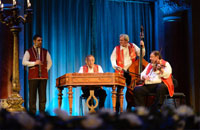 The amazing Budapest Gala Concert - offers a unique experience of Hungarian music culture. After it enjoy an unforgettable ship cruise with dinner, drinks and wonderful view of the city swimming in lights. Starting with the Budapest Gala Concert - Music Show with Hungarian Spirit, followed by the Dinner & Cruise. During the evening you may not be able to prove Mr. Strauss wrong about the color of the Danube, but you will definitely have a wonderful view of the illuminated city. Join us for an exciting music show and then come aboard our cruise ship and enjoy a delicious buffet meal of traditional Hungarian fare and international favorites!

Danube Palace The former Casino of Lipótváros, built in 1895, is one of the most famous Neo-Baroque building of Budapest, where world-famous composers like Bartók, Dvorak and Kodály conducted their own compositions. At that time it was known as an aristocratic club for entertainment not a casino in terms of gambling. After the war, since 1951 the building has been carrying out the cultural programs of the Ministry of Internal Affairs.

Pesti Vigadó, one of Hungary's most famous theatres, was finished in 1864. It was built on the place of its predecessor, which was destroyed following the Hungarian revolution of 1848 as a form of retribution. Following the defeat of the revolution in 1859, architect Frigyes Feszl created a completely reformed, new design for the building. He mixed the Hungarian architecture with Moor, Romanesque and Gothic elements. Feszl's concept gained so much popularity, that it was used on the construction of numerous buildings all over Hungary at the time. Since its opening, Pesti Vigadó was a centre of the cultural life and entertainment in Budapest.

Part 1.

Hector Berlioz: Rákóczi March (Orchestra)
Zoltán Kodály: Intermezzo - from the Opera Háry János (Orchestra)
Johannes Brahms: Hungarian Dances No. 5. (Orchestra with cimbalom solo)
Béla Bartók: Roumanian Folk Dances (Orchestra)
Jules Massenet: Thais - Meditation (Kiss Zoltán, Orchestra)
Ferenc Erkel: Palotás – fromthe Opera Hunyadi László (Orchestra)
Franz Liszt: Hungarian Rhapsody No. 2. (Orchestra with cimbalom solo)


Part 2.

Franz Lehár: Eva-Waltz (Ballett Ensemble)
Emmerich Kálmán:The CzardasQueen – "Dasist die Liebe"
Franz Lehár: The MerryWidow- Medley (Orchestra)
Franz Lehár: The Merry Widow– "GrisettenLied und Kan-Kan" (Ballett Ensemble)
Grigoraş Ionică Dinicu: The nightingale (Gypsy Band)
A csitári hegyek alatt… (Hungarian Folk song, Gypsy Band)
Vittorio Monti: Csárdás Czardas (Gypsy Band)
Emmerich Kalman: The Devil-rider– Palotás (Orchestra, Ballett Ensemble)
Emmerich Kálmán: Countess Mariza– "Komm mit nach Varazdin"
Johann Straussjr.:Long livethe Magyar! Op. 332. (Orchestra)
Emmerich Kálmán: Countess Mariza– "BraunesMädel von der Pussta" (Ballett Ensemble)
price

adult
child
younger 12 y.
category 1